What else is a seedbox good for besides seeding your torrents to build obnoxiously high sharing ratios? Well, for starters, you can also download the finished files to your PC. The bandwidth you consume during this transfer will not be counted against your account, so feel free to actually use what you've been happily seeding.
Downloading Your Finished Files
In this tutorial we explore two ways to get those finished torrents to your PC - via HTTP & FTP. A great thing about a seedbox is that when files are downloaded to your computer, the traffic is not classified as "P2P Traffic" by your evil traffic-shaping ISP. Download rates are hampered only by your (maxxed out) Internet connection and by the seedbox provider's throughput itself.
HTTP 'Browser' Downloading
HTTP method for downloading the files back to your PC.
This is the easiest method - albeit not necessarily the fastest.
Follow these steps to download via HTTP:
1. In the main TorrentFlux window, click on the "Directory" link at the top:

2. You'll now be inside your directory on the server. Click the folder title (your username) to enter. If you are not admin you will reach your personal folder directly and can skip this step and go to 3.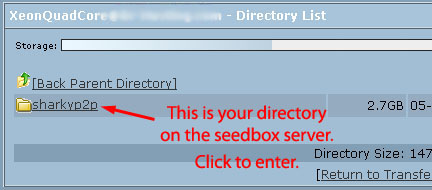 3. You'll be presented with a list of folders that contain the files from the finished torrents. To download the entire folder with all of the contained files, click on the "download" icon next to the desired folder. If you prefer, you can enter the folder and select only certain files to download from the completed torrent's directory.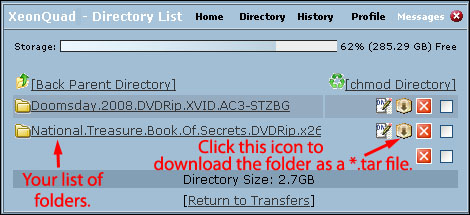 The transfer will now begin. In all likelihood the transfer to your computer may be much slower than the original downloading speed of the torrent. This is to be expected unless you have an equally fast downlink.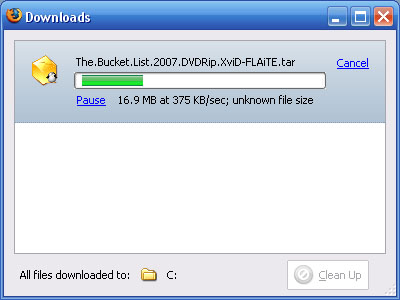 By default, the file (folder) is saved as a *.zip file (which is similar to a *.rar or *.tar file). Use WinRAR or the freeware 7-Zip to extract the files once downloaded.
FTP Downloading
For those of you who are familiar with FTP will probably find this method superior to HTTP downloading. Simply connect to your account (using your username & password) through an FTP program and download files from there.